Liliac bush planting in Friendship Avenue.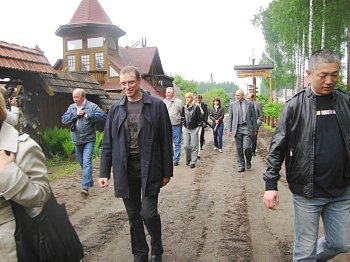 On the 27th of May the Club Members took part in the traditional annual action "Plant liliac in the Friendship Avenue". This year 12 new bushes were planted.
This splendid tradition rose in 2002 on N.Kolotilo and Club Members- E.Tikhonov, V.Zhovtenko, N.Patzkevich initiative.
Since that time more than 75 bushes are planted by the representatives of 25 countries.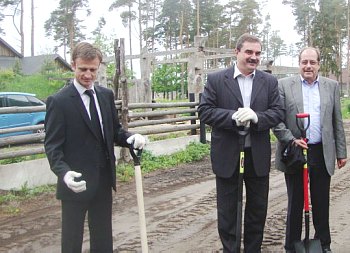 Igor Zakharciuc, Viktor Danilokh and Urs Buhler were first, who decided to plant liliac bushes this year.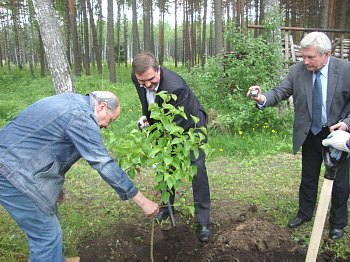 V.Danilokh, Director of Medical SPA , Sanatorium "Yantarniy Bereg" and E.Tikhonov and V.Dmitriev are helping him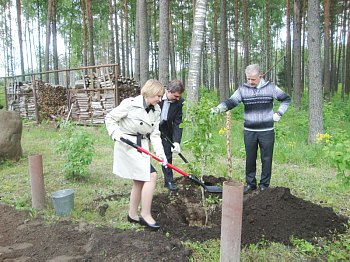 Alla Gornitskaja, First Secretary, Embassy of Ukraine, planted her liliac bush and watered the bushes planted by the V. Zhovtenko and T. Gavrilyuk.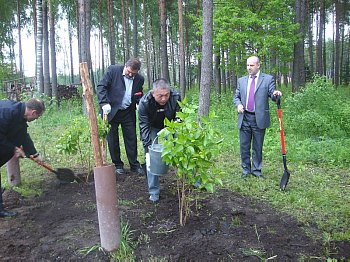 Chen Zitao, Director of Chinese restaurant "Old Shanghai". It is the 5th liliac bush planted by the representatives of PRC in Latvia, in a place "Kolotilovka'.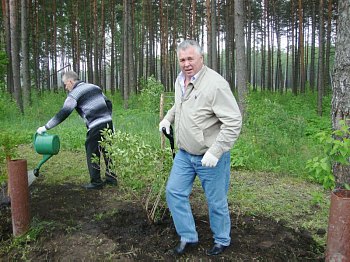 Alexander Samohin, editor-in-chief of the magazine " Career".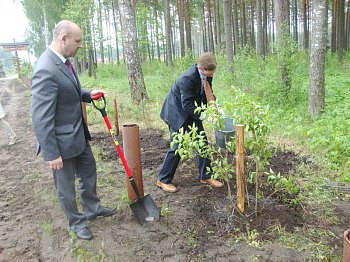 Brian O'Beirne, 2nd Secretary, Embassy of the United States.
It is the first bush, planted by the representative of the USA in Friendship Avenue.
Irena Cirule, Embassy of Canada and Andrei Volkov, First Secretary, Embassy of Belarus.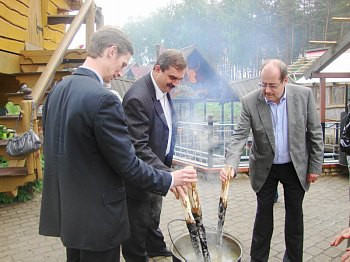 After the planting N.Kolotilo invited Club Members to taste the fish-soup. It is a tradition to put out the fish-soup with the log from the fire.
Brian O'Beirne, V.Danilokh and Urs Buhler made the fish-soup more tasty and added the taste of fire in it!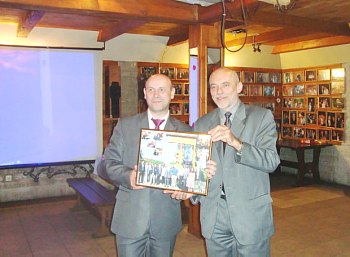 Igor Nazaruk is finishing his official journey in Latvia. The President of the Club Janosh Rekashi thanked him for the excellent attitude, wished a success in a new work place.
From the name of the Club President decorated Igor Nazaruk with the Medal of the Club "For the successes achieved in the economic relationship development between Belarus and Latvia", presented the Diploma of the Club and souvenirs. Club Members wished also a success and to reach all the goals.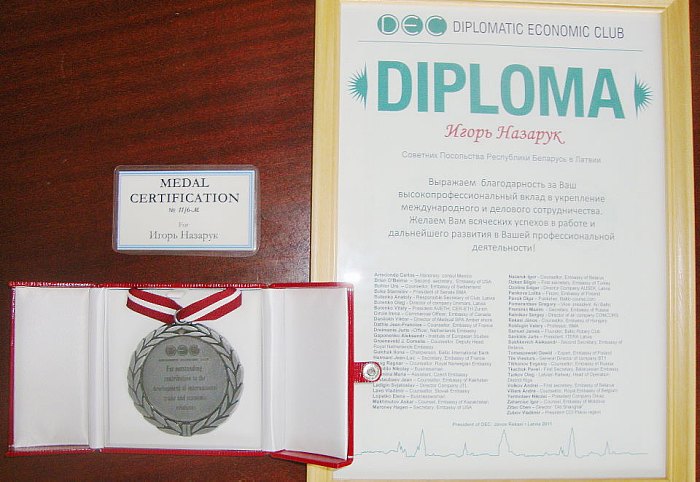 zoom