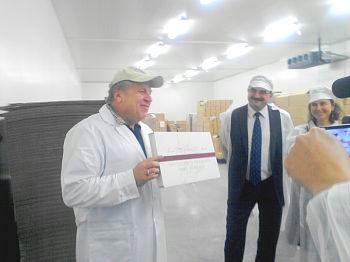 On November 4, the Club members visited the Pure Chocolate and got to know its product on its director's, Aivars Žimants', invitation. The Pure Chocolate manufactures its product for both local and foreign market.
Mr Aivars Žimants guided the guests in the factory workshop and told about the production process, as well as the ingredients and fillings used by Pure Chocolate for producing sweets, company's main product. Chocolate, one of the main ingredients, is supplied by Belcolade (Belgium), a member of Puratos company group.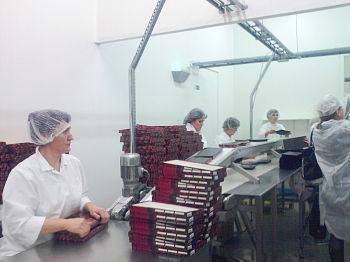 Modern production lines allow producing up to 30 t of confectionery per month. The natural sweet ingredients used by Pure Food are highly appreciated by the consumers from Latvia, Russia, Belarus, Azerbaijan, Japan, Ukraine, United Kingdom, USA, UAE and many other countries.
The factory is actively developing new markets, creating new products. One of the ways is optimising the expenses for the packaged products. However, this is different in each case. For example, the Club members observed the special features of the package design of the products exported to Azerbaijan.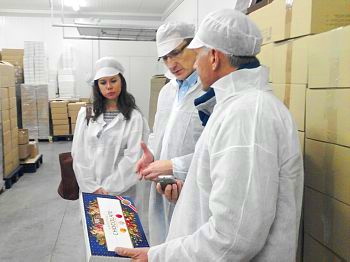 Modern approach, energy, enthusiasm and attention to every customer mark Aivars Žimants' work. Pure Chocolate offers the biggest range of chocolate goods according to the ISO 22 000 certificate and has produced confectionery for many private brands, such as gift chocolate boxes given as a present by the state officials.
Photographs:
The counsellor of the Belgian embassy Andre Villers and export manager of the Pure Food factory Danis Racenis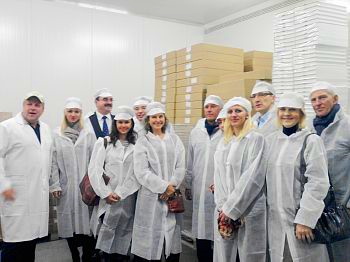 The factory has a museum, which provides infromation about the Pure factory chain development since 1994.
The Club members who visited Pure Chocolate:
Andre Villers, Irena Cīrule, Juris Dreimanis, Viktor Danilokh, Dawid Tomaszevski, Maxim Preminin, Lolita Pankova.
We express our gratitude to Aivars Žimants, the director of Pure Chocolate, and Dainis Racenis, the export manager, for the organization of the meeting.