»»
Diplomatic Economic Club® » Bastille Day
16.07.2013 (5847)
Bastille Day  
Ambassador France to Latvia Mr. Stefan Visconti in the Riga Embassy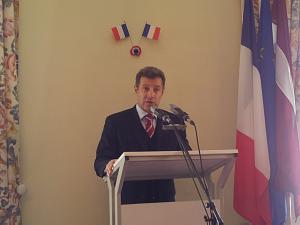 French Ambassador to Latvia Stefan Visconti in the Riga Embassy held a reception on the occasion of the national holiday in France, Bastille Day.
The reception was attended by Latvian government officials, diplomats, businessmen, scientists and artists.
Ambassador France to Latvia Stefan Visconti delivered his congratulatory speech both in French and Latvian. He congratulated France with the national July 14 holiday, wished success and prosperity for the people of France and Latvia and all the guests.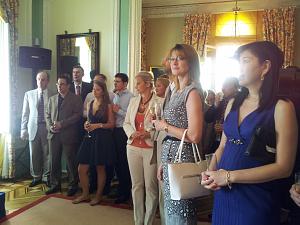 On this day in 1789 the Bastille prison was demolished — a symbol of tyranny and oppression of the French people. In 1790, this day was recorded as a first Federation celebration and finally united the French people. Since then, this event is considered as the beginning of the Great French Revolution.
Act on promoting this day to a national holiday was accepted in July 1880, in France.
The deputy of the Saeima Sergey Dolgopolov and prezident of "Dzintars" Ilia Gerchikov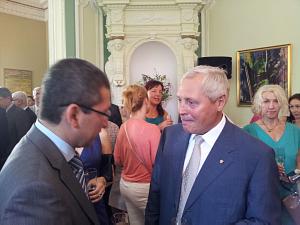 Ambassador Uzbekistan to Latvia Mr Afzal Artikov and ITERA Latvia president Juris Savickis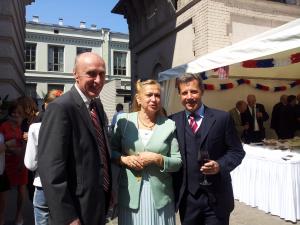 Ukrainian Ambassador to Latvia Anatoliy Oliynyk with his wife and French Ambassador Stefan Visconti
Counselor of the Embassy of Greece Charikleia Perri and Counselor of the Embassy of Norway Ragnar Haug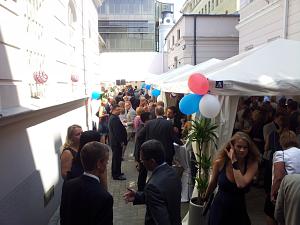 Reception by the French embassy in Latvia, July 14, 2013
Diplomatic Economic Club® » Bastille Day » Views: 5847 Diplomatic Club