»»
Diplomatic Economic Club® » Best wishes for success in your new job
10.11.2017 (1907)
Best wishes for success in your new job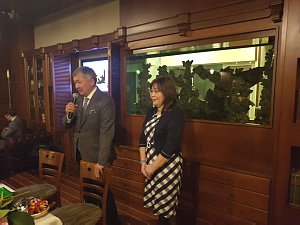 In the Diplomatic Economic Club, an evening was celebrated on the occasion of the termination of the mission of the consul and Counsellor of the Embassy of Kazakhstan in Lithuania and Latvia with a residence in Riga Zhazira Mirzakassimova and transition to a new job in the Ministry of Foreign Affairs of Kazakhstan.
Ambassador of Kazakhstan Baurzhan Mukhamedzhanov thanked Zhazira Myrzakassimova for productive work in the Embassy, wished successes in his new place of work. p>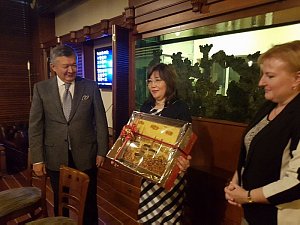 The Vice-President of the Club Alexandra Csizmadia expressed sincere words of gratitude for participating in the club's work, conducting events and meetings.
Zhazira Mirzakassimova actively participated in meetings of the Club with business people, government officials, in presentations and conferences, which promotes the development of economic and trade relations between the countries. She showed herself as an active person with a high level of energy, excellent communication skills and the opportunity to find better solutions to achieve mutual understanding. In 2017, Zhazira Mirzakassimova was unanimously elected vice-president of the DEC.
The board of the club awarded Zhazira Mirzakassimova Honorary Medal of the Diplomatic Economic Club "For contribution to the development of international economic relations ".
On behalf of the club, Zhazira Mirzakassimova's letter of thanks was read out and sent to the Ambassador of Kazakhstan to the Minister of Foreign Affairs of the Republic of Kazakhstan.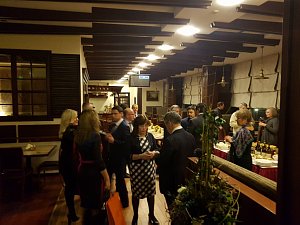 Members of the Diplomatic Economic Club expressed sincere gratitude and recognition for the fact that such people as Zhazira represent their country abroad and make a huge contribution to the development of good-neighborly relations and hope that the energy, experience, knowledge and potential of Zhazira Mirzakassimova will serve the good of the Republic of Kazakhstan.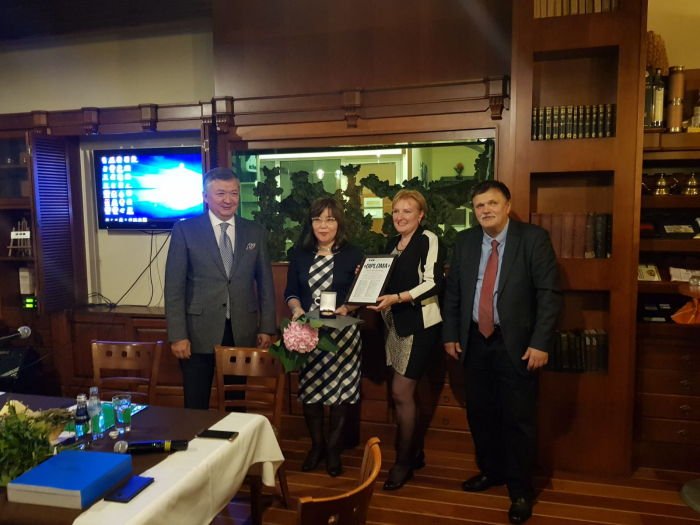 Baurzhan Mukhamedzhanov,Zhazira Mirzakassimova, Alexandra Csizmadia, Anatoly Butenko
Diplomatic Economic Club® » Best wishes for success in your new job » Views: 1907 Diplomatic Club