»»
Diplomatic Economic Club® » Сabbage - Christmas soup in Slovakia
10.12.2019 (415)
Сabbage - Christmas soup in Slovakia  
Ambassador of Slovak Republic Ladislav Babcan together with wife Andrea and embassy staff held a friendly meeting on the occasion of the upcoming Christmas and New Year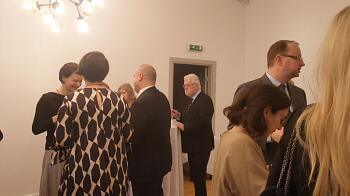 Ambassador invited guests to try cabbage - Christmas soup in Slovakia.
This year, the wife of the Slovak Ambassador Andrea Babcan took the main part in the preparation of cabbage, sweet Christmas cakes.
Traditional Christmas meetings at the Embassy of Slovakia in Latvia date back to the mid-90s of the last century. The Diplomatic Economic Club has been participating in this tradition since 1997.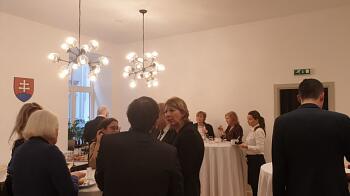 The main meal "kapustnica" is a soup in which there is a lot of meat and cabbage.
Soup recipe from the Ambassador's wife:
2.5-3 liter capacity:
Sauerkraut, two onions, sausage, slices of ham, three potatoes, a clove of garlic, a tablespoon of flour, 2 tablespoons of vegetable oil, a spoonful of sweet paprika, a spoonful of raisins, prunes.
Soak dried porcine mushrooms in advance (how much will fit in your hand). A sweet ingredient is added to soften the acid of sauerkraut.
This cabbage is on mushroom broth. Prepare the broth in advance, make a passivating of onions, carrots, other ingredients, then put everything in a pan with the broth and cook until done!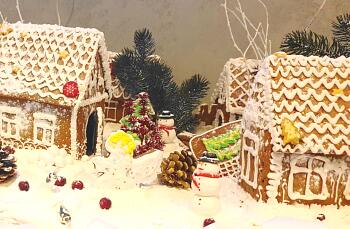 Diplomatic Economic Club® » Сabbage - Christmas soup in Slovakia » Views: 415 Diplomatic Club