On March 2, Prime Minister of Ukraine Vladimir Groisman met with business circles of Latvia, in which a number of members of the Diplomatic Economic Club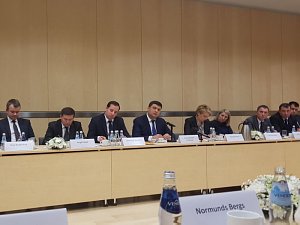 The reform policy promoted by the government allows expanding the country's economic potential and using investments in various sectors from agriculture to space technologies, Prime Minister Vladimir Groysman said during the meeting.
Also at the meeting it was noted that despite serious problems, Ukraine is gradually moving to new markets and is carrying out a large-scale modernization of the system of public administration and economic regulation.
"Today we intend to begin modernization of the country, the situation is changing, the economy sees growth for eight consecutive quarters. According to forecasts, this year we will get a 3% growth, but this figure does not correspond to our potential, we can reach 5% growth and more per year, "the prime minister said.
The head of the Ukrainian government touched upon the issue of counteracting lawlessness of controlling and law enforcement bodies. He reported on the latest decisions in this area, including the creation of a commission to check cases of pressure on business.The importance of government decisions on simplification of certification of products and production lines was noted, as well as the possibility of importing equipment into Ukraine with an installment payment for VAT.
"With Latvia, we have growing mutual trade indicators - we are reaching $ 500 million, but this could be more," the head of the Ukrainian government said at a meeting with the Latvian business community.
Views: 1790
---
---