The reception of the Embassy of Kazakhstan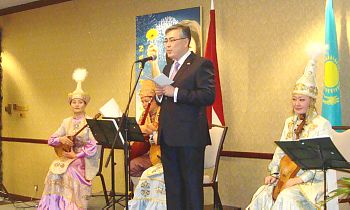 The Ambassador of the Embassy of Kazakhstan Galymzhan Koishybayev held a reception , in Radisson Hotel in Riga, dedicated to the 20th anniversary of independence of Kazakhstan, which is celebrated annually on the 16th of December.
On 16th December, 1991 Kazakhstan adopted the Constitutional Law on the independence of the Republic of Kazakhstan.
Kazakhstan is a leader of the central Asian region and is developing intensivly. Marked improvement in economic Kazakhstan has reached because of the economic system reorganization, which in USSR was based on the extractive industry.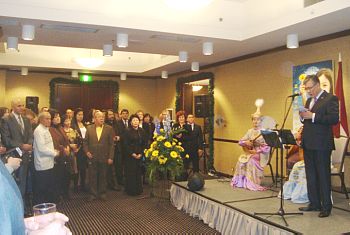 The political reforms of Kazakhstan appreciably rised the authority of the Republic on the international arena. Kazakhstan is a member of the international and regional organizations, reliable partner of western and eastern States. The economic and political relations between Latvia and Kazakhstan are developing swiftly. Friendship and mutual understanding become stronger.
The Ambassador congratulated the guests, wished a pleasant evening, success and well-being. He expressed gratitude to Honorary Counsellor of Kazakhstan in Riga Janis Shimins for the support and for the performance of the famous national ansamble from Kazakhstan organization.
Diplomatic Economic Club® » The reception of the Embassy of Kazakhstan » Views: 6404 Diplomatic Club