Zaharciuc Igor: A new place of work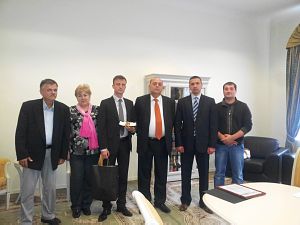 The ambassador of Moldova Aleksey Krakan, first secretary Igor Zaharciuc , secretary of the Diplomatic Economic Club Anatoly Butenko
Zaharciuc Igor, the first secretary of Moldovas Embassy in Latvia is going to join the Ministry of Foreign Affairs in Moldova.
As the representative from Diplomatic Economic Club, Anatoly Butenko visited the Embassy of Moldova in Latvia.
In presence of the ambassador of Moldova Aleksey Krakan, officials from the Embassy, Zaharciuc Igor, vice-president of the Club, first secretary of the Embassy of Moldova, was awarded with Honarable Medal of the Club "For the contribution in the development of international economical relationship", Diplom of the Club.
In regard of Foreign Minister a letter has been read.
All Club members wish to Mr. Zaharciuc success and achievements at the new place of work, as well as thank him for active participation in the life of the Club.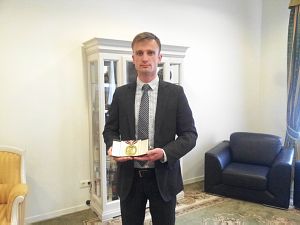 Zaharciuc Igor is awarded with Honarable Medal of the Club
Diplomatic Economic Club® » Zaharciuc Igor: A new place of work » Views: 7328 Diplomatic Club