Reception Embassy of the PRC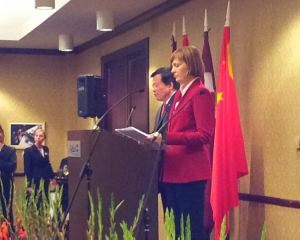 Reception Embassy of the PRC
On 25th September 2012 in the "Radisson Blue Daugava" hotel took place a solemn reception on the occasion of a state holiday, the 63rd anniversary of foundation of the PRC, which is celebrated on 1st October.
The Ambassador Extraordinary and Plenipotentiary of the PRC in Latvia Mr. Hu Yeshun addressed a welcoming speech to the guests.
The Ambassador congratulated the guests and wished success and prosperity to the people of PRC and Latvia.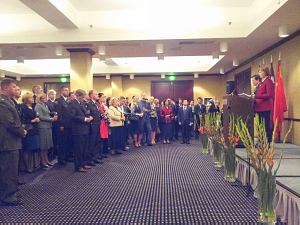 Excelllencies, Ladies and Gentlemen, Good evening. In a few days we shall usher in the Chinese Mid-Autumn Festival together with the 63rd anniversary of the founding of the People's Republic of China. On this special moment, here I wish to express, on behalf of the Chinese Embassy, our warm welcome and thanks to all of you for joining us this evening, and extend my festival greetings to overseas Chinese compatriots and representatives from Chinese companies in Latvia.
Since the founding of New China 63 years ago, especially since the reform and opening up over 3 decades ago, under the leadership of the Party, the Chinese People of all nationalities have successfully jointly explored a development path suited to China's national conditions. As a result, the comprehensive national strength of China has been gradually enhanced; people's living standard constantly improved and international status of China continuously rising.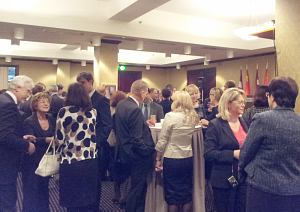 In 2012 against the gloomy background of global economic crisis, China has actively followed a policy of "making progress through maintaining stability" and lowered its growth target to 7.5%. By which, it has unleashed further opportunity and space for accelerating the change of economic growth mode and readjusting the economic structure. In the first half of 2012, China has achieved a growth rate of 7.8%, which has contributed to the recovery of world's economy.
Proud as we are of such achievements of our motherland, yet keenly as we are aware of the difficulties and challenges that China is facing. China is still among the low income countries. The problems of unbalanced, incompatible and unsustainable economic development are daunting. The challenges and difficulties in both scale and complexity in China's course of development have been rarely seen in the world. China's development relies on a peaceful international environment and its development shall in return promote the world's peace and progress. It is China's unswerving pursuit to adhere to the path of peaceful development.
Ladies and Gentlemen,
2012 has witnessed new development in Sino-Latvian relations. Prime Minister Valdis Dombrovskis has met Primer Wen Jiabao twice respectively in Warsaw, Poland and Tianjin of China. The two leaders have reached important consensus in furthering two countries relations. Along this year, Mr. Liang Guanglie, State Councilor and Defence Minister of China successfully visited Latvia. The exchanges between our two countries both at Central and local government levels have been frequent. In the first half of the year, China-Latvia trade volume amounted to 675 million USD, reaching a year-on-year growth of 23%. Such exchanges and cooperation in various fields between our countries has injected new vitality into our bilateral relations. Of particular note is, after the Warsaw meeting between Leaders of China and Central & Eastern European Countries in April, the establishment of Secretariat for Cooperation between China and CEE Countries this month has brought in fresh opportunities for boosting friendly cooperation between our governments, enterprises and peoples.
I believe, with our joint efforts, Sino-Latvian partnership based on equality, mutual benefit and win-win cooperation shall bring more benefits to both peoples, and push forward a steady China-EU relation.
In conclusion, now please join me in the toast to the success of China, Latvia, and our friendship.
Diplomatic Economic Club® » Reception Embassy of the PRC » Views: 4601 Diplomatic Club