Club Members Meeting  
Club Events for autumn — winter 2013/2014 season are planned. On the 19th of September Members had a meeting where the agenda of upcomingevents was discussed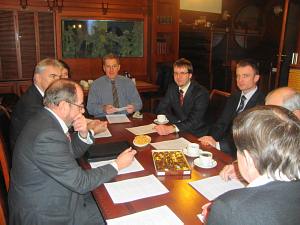 We welcomed the new member of theClubAndrey Sava The Second Secretary of the Embassy of Moldova
The Club offers a wide variety of events.
End of September, we expect a visit by delegetion of entrepreneurs fromStavropol Region of Russian Federation. On the September 26th, the Club will host a presentation on regional opportunities delivered by R.Redikina, Chamber of Commerce and Industry, Director of Regional Department ( Stavropol Region), Vice — Prezident of the Club (years 2007 -2008 )
In anticipation of introduction of Euro in Latvia we are planning some meetings with Dace Kalsone — Project Manager at Ministryof Finance in Latvia and Ilmar Rimshevich, the President of Bank of Latvia
In October we are planning our 8th Annual Bowling Competition between Club Members.
In the end of October, in the framework of «The Baltic Forum», the Club will offer a lecture by N. Mezhevizh, PhD of EconomicSciences, Professor of the Department of European Studies at the Faculty of International Relations, Saint — Petersburg State University, Russia,
On the November 18th, 2013 Latvia will celebrate 95th Proclamation Day of Independence. Club will hold a theme night «Discovery Latvia».
We will continue our traditional series of meetings with Ambassadors. This season we are planning to meet Ambassadors of France, PRC and Ireland.
One of the ideas is to invite Mayor of Riga to meet our Club Members.
Issues of energetics and implementation of scientific innovative developments, intraction and cooperation of science and current businesses in Latvia will be raised in the discussion with J.Savickis's participation.
We plan an arrangement with entrepreneurs of the Polish comminuty in Latvia.
Club Members will participate in International Exhibitions and Events which will be held at International Exhibition Centre Kipsala, such as Baltic Furniture, Environment and Energy, RIGA COMM 2013, Tech Industry
Trips to Latvian enterprises get acquainted with their manufacturing are settled.
In February 2014, we are planning to organize worldwide conference with all our Club Members.
People who participated in the conversation meeting:
Laszlo Sodatits, Elena Lopatko, Andrei Kozlov, Kirill Voronin, Valery Roldugin, Andrei Sava
Diplomatic Economic Club® » Club Members Meeting » Views: 7221 Diplomatic Club