Reception of the Embassy of PRC in Latvia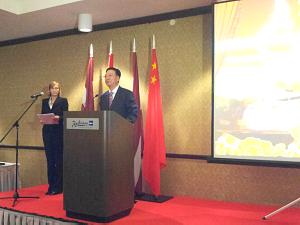 On September 30, in Riga, in Radisson hotel a solemn reception of the Embassy of PRC in Latvia in the honour of the 65th anniversary of formation of PRC took place. In China the holiday is celebrated on October 1st.
Ambassador Extraordinary and Plenipotentiary of People's Republic of China in Latvia H.E. Mr Guoqiang Yang addressed a welcoming speech to the guests. The Ambassador stressed good development in trade, economic, political and cultural relations between Latvia and China. Trade turnover growth between our countries shows that there are paths to develop more extensive co-operation.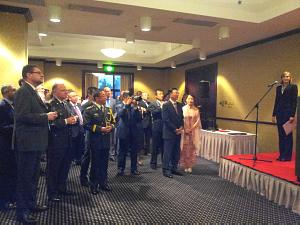 Cultural relations between our countries are steadily becoming stronger. In summer 2014, during the World Olympic Choir competition, which took place in Riga, more than 6000 residents of China learned about such a beautiful country as Latvia. The Ambassador hopes that in future the amount of tourists from China will only continue growing. The official anthems of Latvia and China were sung by the choir of the University of Latvia.
In his speech, the Ambassador said:
"It is great pleasure for my wife and me to get together with friends of all circles this evening, to celebrate the 65th anniversary of the founding of the People's Republic of China. Here I wish to express, on behalf of the Chinese Embassy, our warmest welcome to you all. In this regard, I wish to extend our sincere thanks to all friends who have supported the development of China, and devoted to China-Latvia friendship and cooperation.

Since the founding of New China 65 years ago, we have witnessed a spectacular development of the whole nation. From beginning the country was devastated, poor and needed to be re-built, and now it is the world's No. 1 trade nation, No. 2 economy, and No. 3 investor nation. Comprehensive strength of China has been enhanced greatly, people's living standard has continuously improved, and international influence constantly rise. By their wisdom and diligence, 1.3 billion Chinese people are working hard to realize the Chinese Dream of national prosperity, rejuvenation, and people's well-being, to achieve the ambitious goal of build a moderately prosperous society in all respects when the Communist Party of China celebrates its centenary and turn China into a modern socialist country that is prosperous, strong, democratic, culturally advanced and harmonious when the People's Republic of China marks its centennial.

What are the secrets behind dramatic changes that occurred in China? I think there are two key words. Firstly, DEVELOPMENT. As a developing country, China must unswervingly take economic construction as its central task. Development is the absolute principle, the fundamental solution to all problems. Secondly, REFORM. In recent years, the global economic environment has remained intricate. Growth in emerging market economies has slowed down. It is thanks to reform and innovation that the Chinese economy has maintained steady and sound growth. In the first half of the year, the Chinese economy registered a 7.4 percent growth. Facing the greater downward pressure of economy, the Chinese government has continued to follow the general principle of making progress while maintaining stability. Instead of adopting strong economic stimulus, we have vigorously promoted reform and economic readjustment, and made efforts to improve people's lives. As a result, we have maintained steady economic performance.

In this May, Her Excellency Speaker of Saeima Mrs. Aboltina successfully visited China, and exchanged in-depth views with Chinese leaders on strengthening China-Latvia friendly cooperation. In the first half of this year, China-Latvia trade volume amounted to 710 million USD, of which Latvian export to China has increased 45.2%, and Chinese export to Latvia decreased 4.5%. That is also a good signal that our bilateral trade is developing more balanced. New progress of pragmatic cooperation has been achieved; bilateral exchanges and cooperation in political, economic, cultural and local are continuously deepened. Both sides explored the potential prospects in Euro-Asia transport and logistics cooperation, and made breakthrough in exporting Latvian agricultural products to China. It's also worth mentioning that during the World Choir Games held in Riga this July, more than 6000 Chinese people visited Latvia, and got a very good impression about here. I believe there will be even more Chinese people visiting this beautiful country.

Now, China-Latvia relations are in the best historical period. For over 2 decades since establishment of our diplomatic ties, we have maintained our relations with mutual respect and equal treatment. Latvia is a good friend and reliable partner of China in the Baltic region and EU. As a witness, participant, and impeller of this great era, I feel very privileged. We wish to make joint efforts with the Latvian side, to strengthen the China-Latvia friendly cooperation relations, and push forward the pragmatic cooperation in all areas.
The Ambassador congratulated guests on the holiday, wished success and prosperity to the nations of China and Latvia.
The dancing group performed for the guests.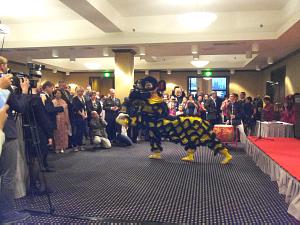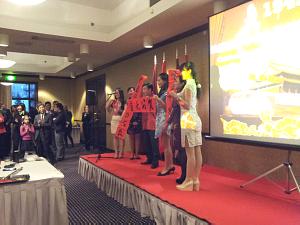 Diplomatic Economic Club® » Reception of the Embassy of PRC in Latvia » Views: 4595 Diplomatic Club