Saiful Hoque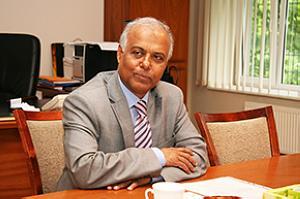 Dr. S.M. Saiful Hoque Ph.D
Senior Advisor, BRICS Trade Representation in the Eurasian Region
2010 -2020 Ambassador Extraordinary and Plenipotentiary of the People's Republic of Bangladesh
Studied in the USSR, in the Ukraine, Kiev. Was reading lectures in People's Friendship University of Russia in Moscow.
Dr. Saiful Hoque was the director of international development programs of the Human Research and Development Center (HRDC) from 1999.
2010- 2020 Ambassador of Bangladesh in Russia, Latvia, Belarus, Lithuania, Estonia, Ukraine .
Adviser of the Center for Culture, Science and Information of Bangladesh in Saint-Petersburg, Russia.
» Saiful Hoque » Views: 60489 Diplomatic Club