Magnificent mountains, vast forests, and mineral springs of Slovakia  
The Ambassador of Slovakia in Latvia Mr. Peter Hatiar at the evening in the Diplomatic Economic Club held a presentation about economic potential and development of his country.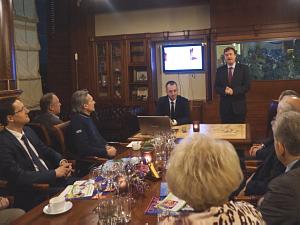 Slovakia is an industrial country with the dynamic economy. The population of the country is more than 4.5 million. GDP is more than 130 billion USD.
Slovakia extracts oil, natural gas and brown coal. Country has also uranium resources, coal and shale gas. However, currently the development of these resources is not conducted.
Bilateral trade between Latvia and Slovakia makes about 300 m. EUR per annum.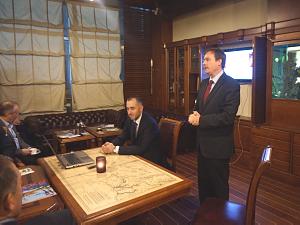 Slovakia it is mountains, ski resorts, forests and fields, mineral springs, caves, castles and fortresses, which attract many tourists every year, from Latvia as well. In the end of 2014 there was opened a direct flight from Riga to Poprad in Slovakia during winter time.
Slovakia is offering to visitors modern hotels, small pensions, and private apartments.
Country is one of the popular European centers for skiing sports.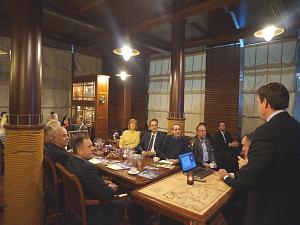 Slovakian Agency for Tourism is taking part in BALTTOUR with a big national exposition. BALTTOUR is a big tourism exhibition, which takes place in Riga in Kipsala exhibition center on 6-8 February.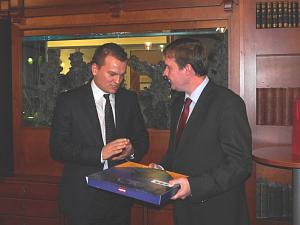 Members of the Club expressed thank to the Ambassador of Slovakia Mr.Peter Hatiar, wished success in his job, and awarded a souvenir book about Latvia.
Members participated in at the meeting:
D.Tomaszewski, A.Butenko, S.Kanaev, S.Shushunova, M.Stolarova, A.Iliyn, G.Pomerantsev, M.Haza, V.Roldugin, O.Bramwell, E.Ozolins, J.Lopatko, Z.Myrzakassimova, K.Kokina, N.Kolotilo, V. Butenko, L.Pankova and others.
Diplomatic Economic Club® » Magnificent mountains, vast forests, and mineral springs of Slovakia » Views: 3745 Diplomatic Club