Engineering in negotiation processes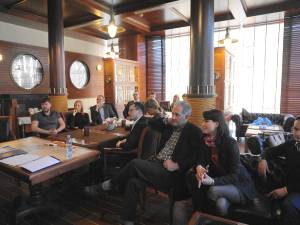 On the 9th April in Diplomatic Economic Club was held a meeting with the topic "Engineering in negotiation processes – new approach in negotiations and mediation" — telecommunications systems engineer, Dr.Vitaly Butenko, the researcher of the Department of negotiations and management of conflicts of the Federal Technical University of Switzerland (ETH) in Zurich. The Department is managed by the professor, Dr. Michael Ambuhl, who until 2013 held a post of the State Secretary of the Ministry of Foreign Affairs and the Ministry of Finance of Switzerland.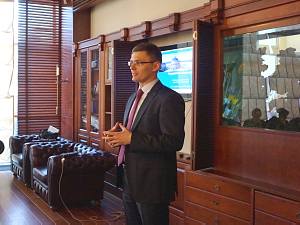 V.Butenko is the Games' theory expert, and his current research is focused on engineering in negotiations…
Dr. V.Butenko holds two Master degrees – one from Riga Technical University, Institute of Telecommunications, and the other from the Federal Institute of Telecommunications in Lausanne (EPFL). At the age of 29 years he's got Doctor's Degree from the Federal Technological University of Switzerland (ETH) in Zurich.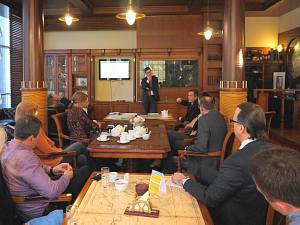 Together with professor Michael Ambul he developed trainings and seminars on negotiation methods and conflict mediation for students and professionals in banking and governmental spheres. On the examples there were shown approaches to negotiations management, which can be used in everyday life, business, international negotiations processes.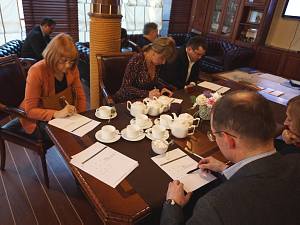 Members of the Club tried to solve some mathematical exercises, which helped to understand on practice how to use the methods of broad-minded thinking in situations when you need to get ready for negotiations and to lead them.
Vice-president of the Club, Deputy Head of Mission of the Embassy of the Ukraine in Latvia Andrey Kozlov thanked V.Butenko for an interesting and informative presentation, handed a Diploma of the Club, and wished success in his job.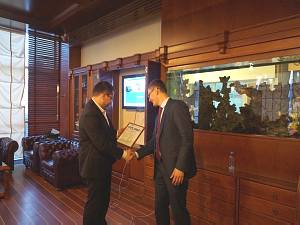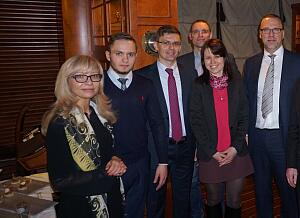 Diplomatic Economic Club® » Engineering in negotiation processes » Views: 3005 Diplomatic Club