Teimuraz Janjalia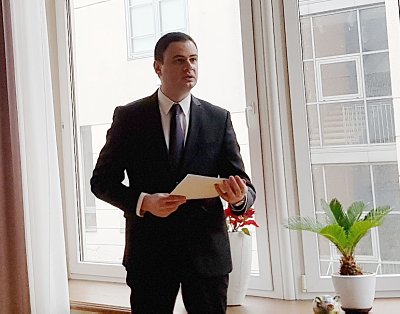 Теймураз Джанджалия (Teimuraz Janjalia)
2013 -2018 Ambassador Extraordinary and Plenipotentiary of Georgia to Latvia

Was born in 1974.
Education:
Institute of Business and Marketing, Georgia,Friedrich-Alexander University of Erlangen and Nuremberg, Germany
Since 1998 in the foreign policy service. He held various positions in the administration of the Ministry of Foreign Affairs.
From 2008 to 2011 he worked at the Georgian Embassy in Latvia — Counselor, Deputy Ambassador
From 19 March 2013 — 2018 Ambassador Extraordinary and Plenipotentiary of Georgia to the Republic of Latvia
Родился в 1974 году.
Образование:
Институт бизнеса и маркетинга, Грузия, Университет имени Фридриха — Александра в Эрлангене и Нюрнберге, Германия
С 1998 года на внешнеполитической службе. Занимал различные посты в администрации Министерства иностранных дел.
С 2008 по 2011 год работал в посольстве Грузии в Латвии — советник, заместитель Посла
С 19 марта 2013 года — 2018 Чрезвычайный и Полномочный Посол Грузии в Латвийской Республике 
» Teimuraz Janjalia » Views: 40129 Diplomatic Club