Anatoliy Oliynyk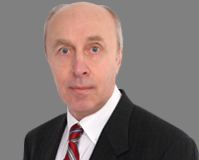 Anatoliy Oliynyk
2011 — 2015 — Ambassador Extraordinary and Plenipotentiary of Ukraine to the Republic of Latvia

Born 8 February 1950, Vinnytsia, Ukraine
Graduated from Kyiv State University in 1981. Main course of study: International Relations and International Law
He has been at diplomatic service since 1981. The assignments abroad included service at the Permanent mission of Ukraine to the United Nations and service as Consul General of Ukraine in Chicago, USA in 1989- 1995.
From January 1997 to January 1998 served as Chief of Civil Affairs Regional Office in UNTAES (United Nations Transitional Administration for Eastern Slavonia and Western Srem, Republic of Croatia). In March 1998 he joined UNMIBH (United Nations Mission in Bosnia and Herzegovina) and served as Civil Affairs Coordinator at the UNMIBH Regional Offices, and from September 2002 to January 2003 — Systems Analyses Civil Affairs Advisor, UNMIBH.
Prior to the appointment to the Republic of Iraq, he served as Director of the Department of New Challenges and Threats — ambassador at large for Iraq, Ministry of Foreign Affairs of Ukraine. From March 2004 to November 2005 – he was posted to the Republic of Iraq as the Ambassador, and from November 2005 to August 2009 – served as Ambassadorto the Republic of Serbia.
In October 2009 he was assigned to the post of Director General, Directorate General for NATO, MFA of Ukraine (transformed into the Directorate General for Euroatlantic Cooperation and New Challenges in 2010).
Speaks English.
Married, has a daughter and a son.
» Anatoliy Oliynyk » Views: 37236 Diplomatic Club